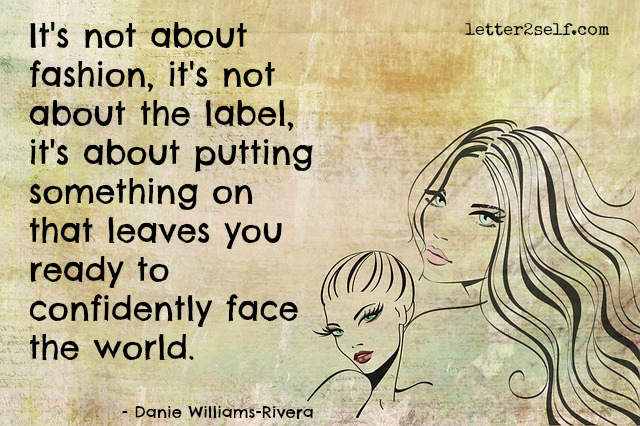 I firmly believe that a big part of day to day confidence is looking your best. I'm not suggesting plastering your face with makeup or wearing high end clothes… but taking care of yourself and dressing/presenting yourself in a way that makes you feel good and feel confident. You've heard the phrase, "dress for the position you want, not the one you have"? Well, it's kind of that theory, but with life. It's not about fashion, it's not about the label, it's about putting something on that leaves you confidently ready to face the world. Walk out of your house each morning ready to face anything.
For me, a big part of that was figuring out my personal style. I've always been a bit eclectic and I love shopping at Goodwill and thrift shops to find things I like, but I've also felt like my clothes were a big hodgepodge of style and nothing was cohesive. To make matters worse, I'm always running around haphazardly in the morning and end up just grabbing whatever is highest on my pile of clothes and wearing that, leaving 90% of my closet untouched 90% of the time.
I found a solution in one of the blogs I read about closet organization. She suggested to set up your closet in outfits. On each hanger is a full outfit ready to go (including accessories), all you have to do is grab and get dressed. I decided to give it a go and spent a few hours one Saturday setting up my closet in outfits, taking extra care to use clothes I didn't wear often. The only thing I did differently than what her blog suggested is to keep my jeans and tanks in the drawer, because I didn't have enough to go around, but made note of which outfits needed a tank and/or a pair of jeans. I also didn't necessarily pick out the shoes, as a Wisconsin winter makes shoe choices unpredictable. After I was done I had 39 outfits ready to go… and I still didn't even use up all my clothes! I was shocked. I had no idea I had so many clothes!! It not only put things into perspective, but between all the clothes I realized I actually own and my Gwynnie Bee subscription, I'll never have a need to shop for clothes again! LOL!
I've been using this organization method and I've been wearing my outfits now for a few weeks and it has been great. Getting ready in the morning is easy, I just have to grab a hanger and go. I feel more confident and put together. As a major bonus, I've been able to hone my style and wear really fun outfits that feel like me!
Would you / have you reorganized your closet like this? Do you have another organization technique you like?
XOXO,
Danie
Let's Get Social!
Get a daily dose of inspiration and check out my Facebook Page.
Ready to live a health fit life? Need some accountability and motivation? Join one of my Challenge Groups!
Interested in changing people's lives through Beachbody Coaching? Apply for more information!