Holy craziness, Batman! I haven't posted a blog in a week! I have, however, started at least 5 posts that I've been too busy to finish… this being one of them. I documented my hair transition and I wanted to share the amazing *4 hour* process with you! But, before I start on the hair… here is a quick update on my life.
In 14 Days, we've managed to:
Helped 2 people move.
Completed 2 Final Exams for Statistics (pretty sure I failed the second one… but we shall see).
Broke my fitbit (Daniel may be able to fix that one)
Broke my ipod (Daniel fixed it this morning!)
Started our taxes (We're calling in a professional this time, but we had so much documentation to get ready… this really is a long story for another post.)
Did a mini photo shoot at Barnes and Noble for Daniel's school project
Had a sister night out
Got my hair dyed purple!
Took our car in to get fixed
Paid off our Honeymoonaversary!!
Completed all the modules in SMART success and start implementing some of the new policies and proceedures in our business!
Transfered my blog hosting and site over to wordpress.org (got a professional for this too… see #10!)
Starteded to plan Imagine'at's site/design revamp
*WOOH*
Last night I went to bed at 8ish… partially depressed from my test, mostly exhausted from all this amazing productivity. Tonight, I'm having a fun trivia night out with friends. Wednesday… I get back to work. I will really need to stay focused and use the scheduling I learned from SMART Success, as this next term I will have 2 accelerated classes (instead of my usual 1)… but at the end of the term we will be rewarded with a trip to PR – so there is a lot to look forward to!
But now… for the real reason you read through the entire top half of this blog… my purple hair transition, in pictures!! (Deets for the amazing stylist who did this: Ivana at Hybrid Salon.)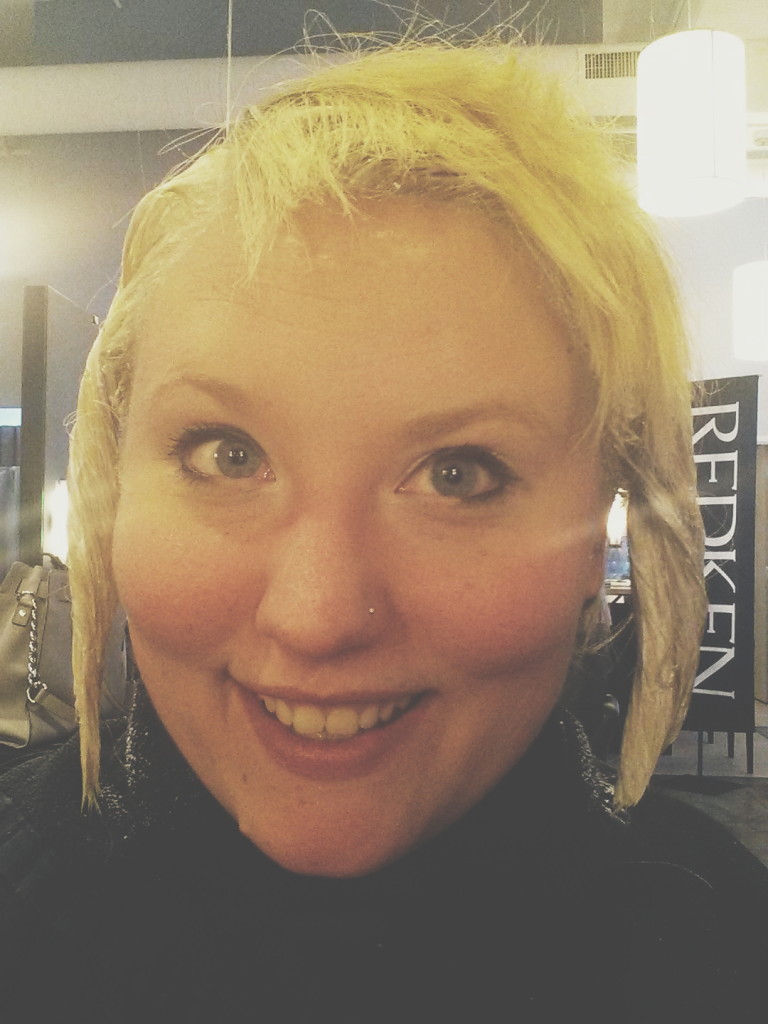 We had to start by bleaching my hair. Started from the sides and worked our way to the back… this was a pretty awesomely crazy look… And this picture still really cracks me up.
Then we wait… While she was mixing up color in the back… I found ways to amuse myself… mostly taking silly pictures with my camera.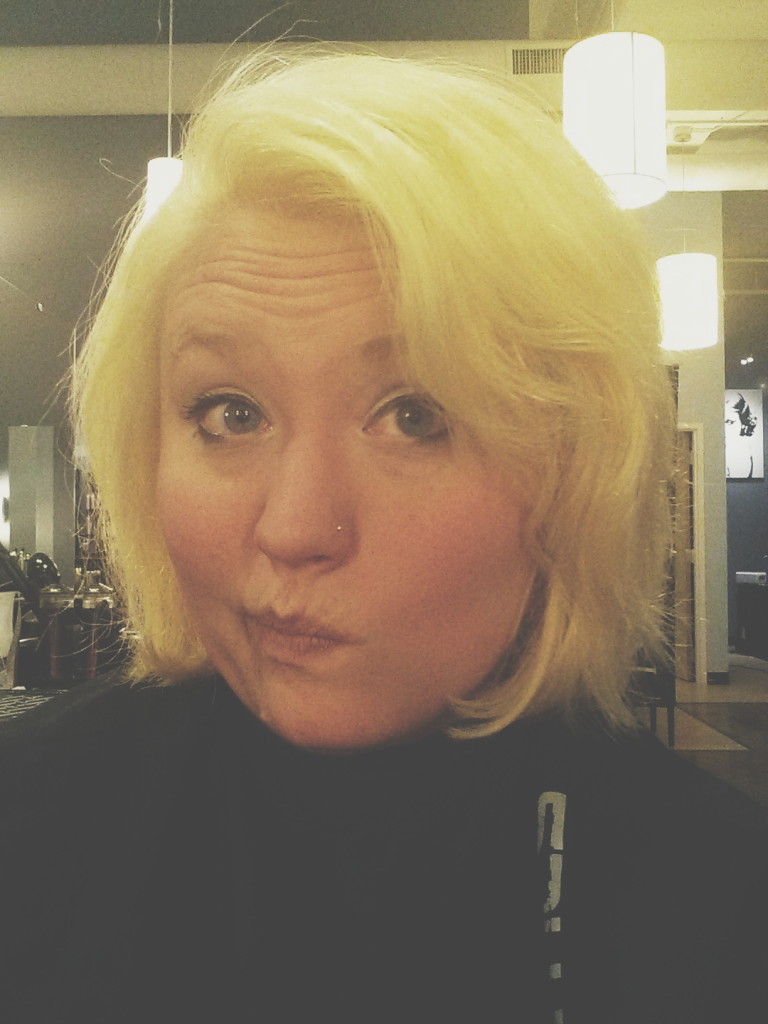 I always wondered what my hair would look like bleached (when I'm not doing it at home and turning it orange). I felt a little Marilyn-ish… but I don't think this color looks awesome on me.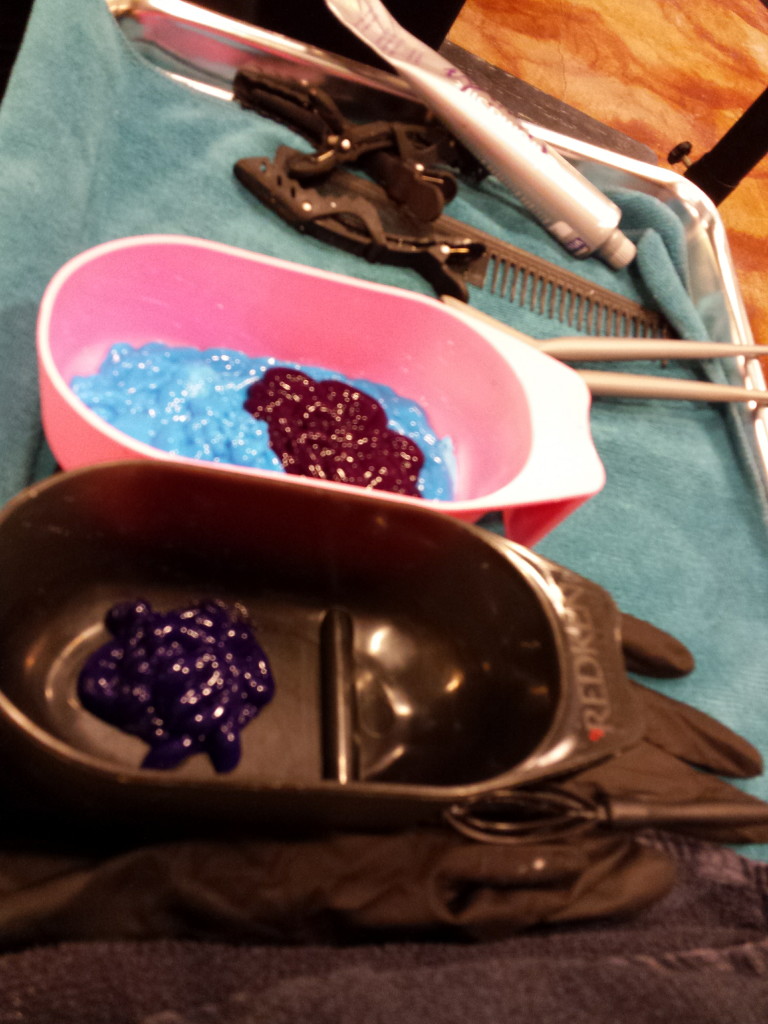 The custom mixed dye comes out…
And the gloves come on…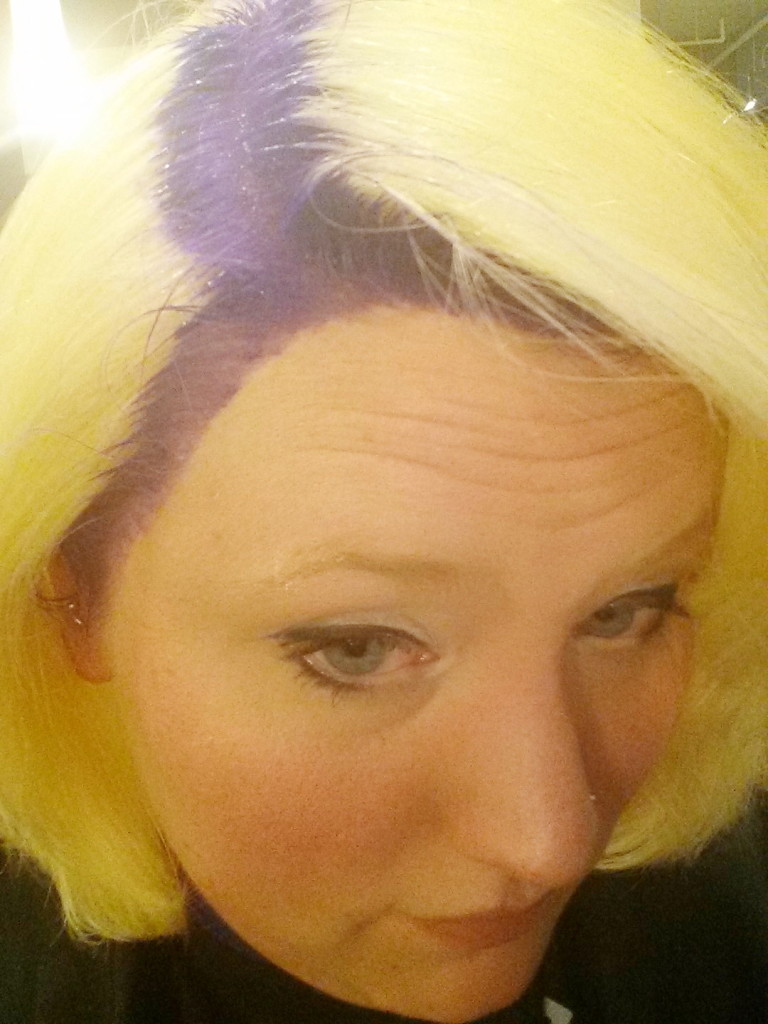 Started with the deep purple at the roots…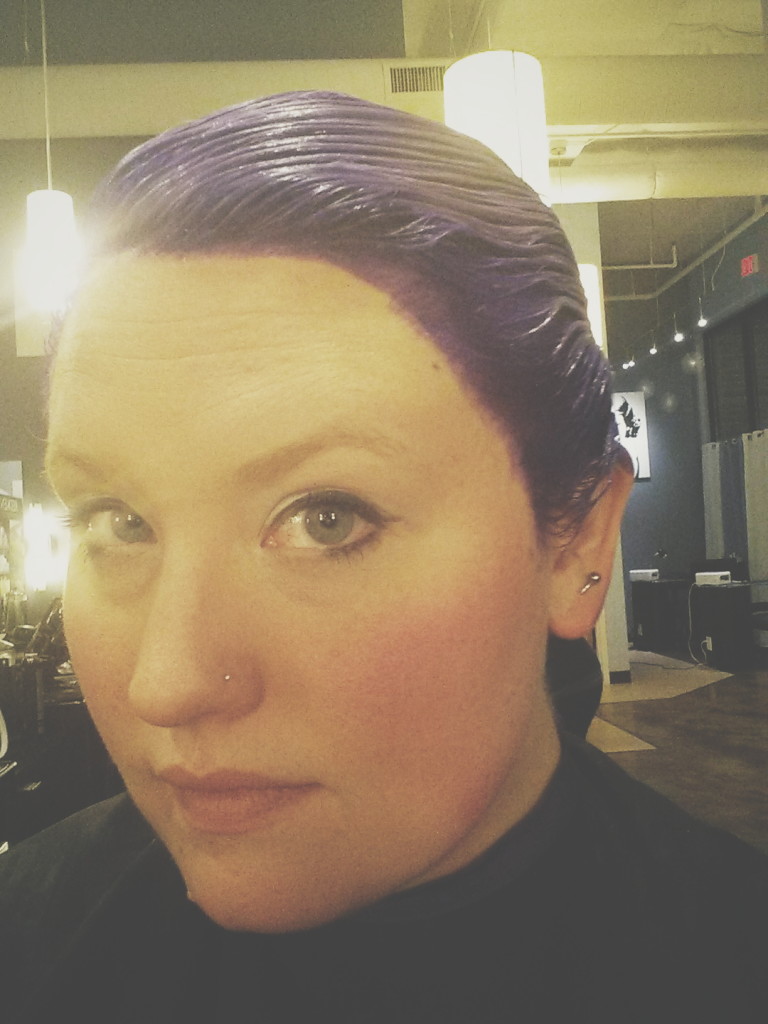 Pulled the lavender color through the ends… and waited…
And waited…
Finally…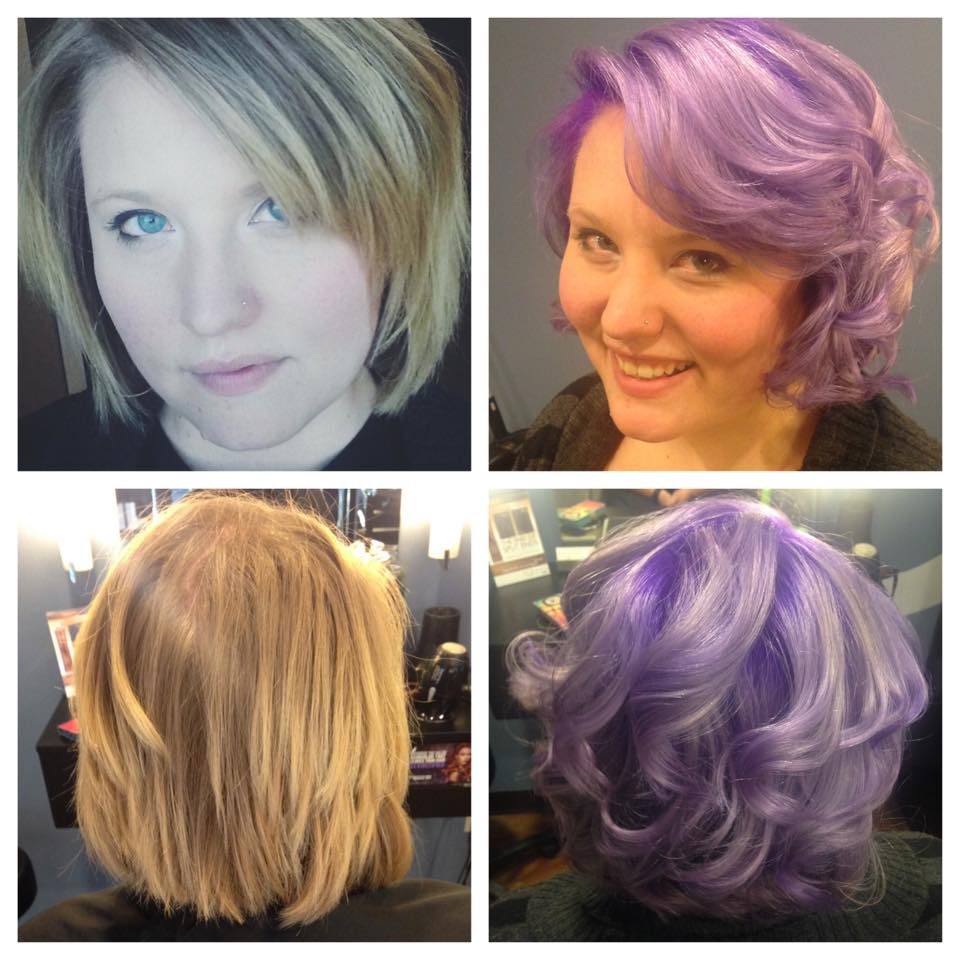 We have this awesome lavender color with deep purple roots. Because of the way she mixed the color, it shimmers different colors in different lights… pink, silver, blue, etc. It's really fantastic!! I am so in love with it!!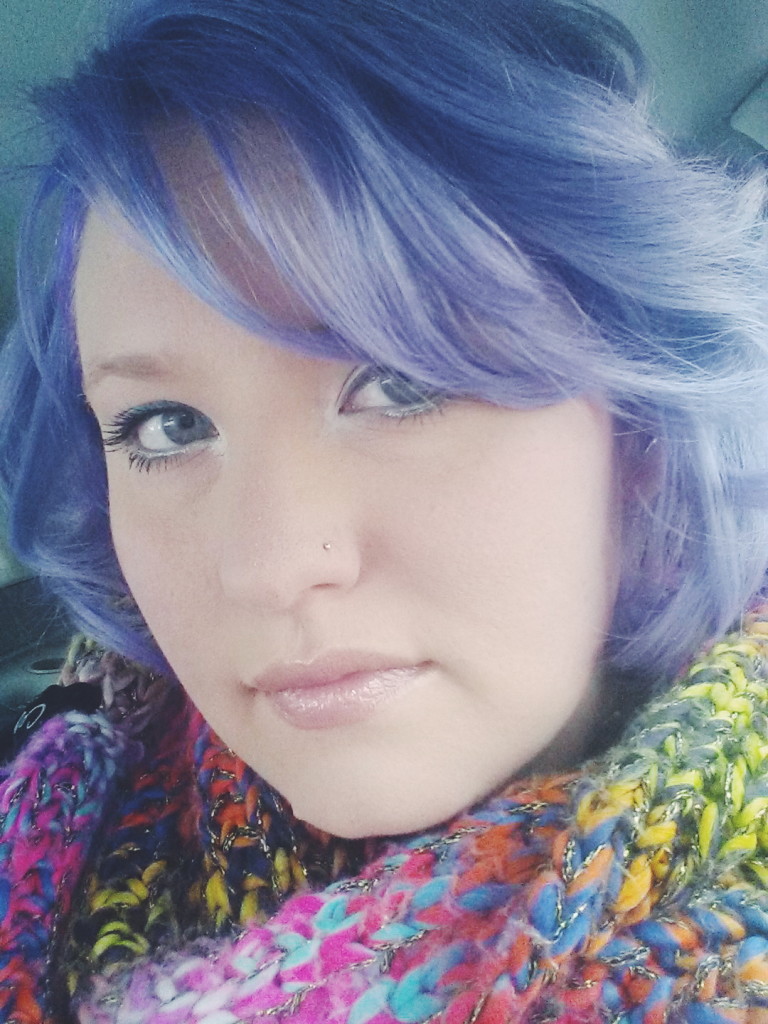 What crazy color would you dye your hair? Or have you dyed your hair a funky color? What was it? I want to see your pictures!
XOXO,
Danie
Let's Get Social!
Get a daily dose of inspiration and check out my Facebook Page.
Ready to live a health fit life? Need some accountability and motivation? Join one of my Challenge Groups!
Interested in changing people's lives through Beachbody Coaching? Apply for more information!